Detangler
Regular price

Sale price

€5,95
The solution for tangle & knot free manes & tails...
Productdetails

Mane 'n Tail Detangler is a special caring spray for the mane and tails of a horse and for a dog's fur. This caring hair spray helps maintain long, healthy manes and tails. The spray does not stick and helps to strengthen the mane strands. Can your horse's mane or your dog's fur use a good grooming? The Detangler of Mane 'n Tail is a caring hair spray for horses and dogs. This spray is suitable for caring for the manes and tails of horses and the fur of dogs and making knots free. The spray does not stick and makes hairs manageable, for example for the braiding of the manes. The spray helps to maintain the long and healthy manes and tail and a healthy dog fur.
How to use
Features

☑ Friction free slip for reduced grooming damage
☑ Conditions and fortifies hair strands
☑ Keeps hair manageable for grooming and braiding
☑ Helps achieve and maintain longer, healthier manes and tails
☑ Pleasant non-fragranced, non-sticky formula
In stock: Delivery time 1 - 5 days
Premium Brand
Fast Shipping
Free Shipping on all order over €69,-
Safe for horses and their humans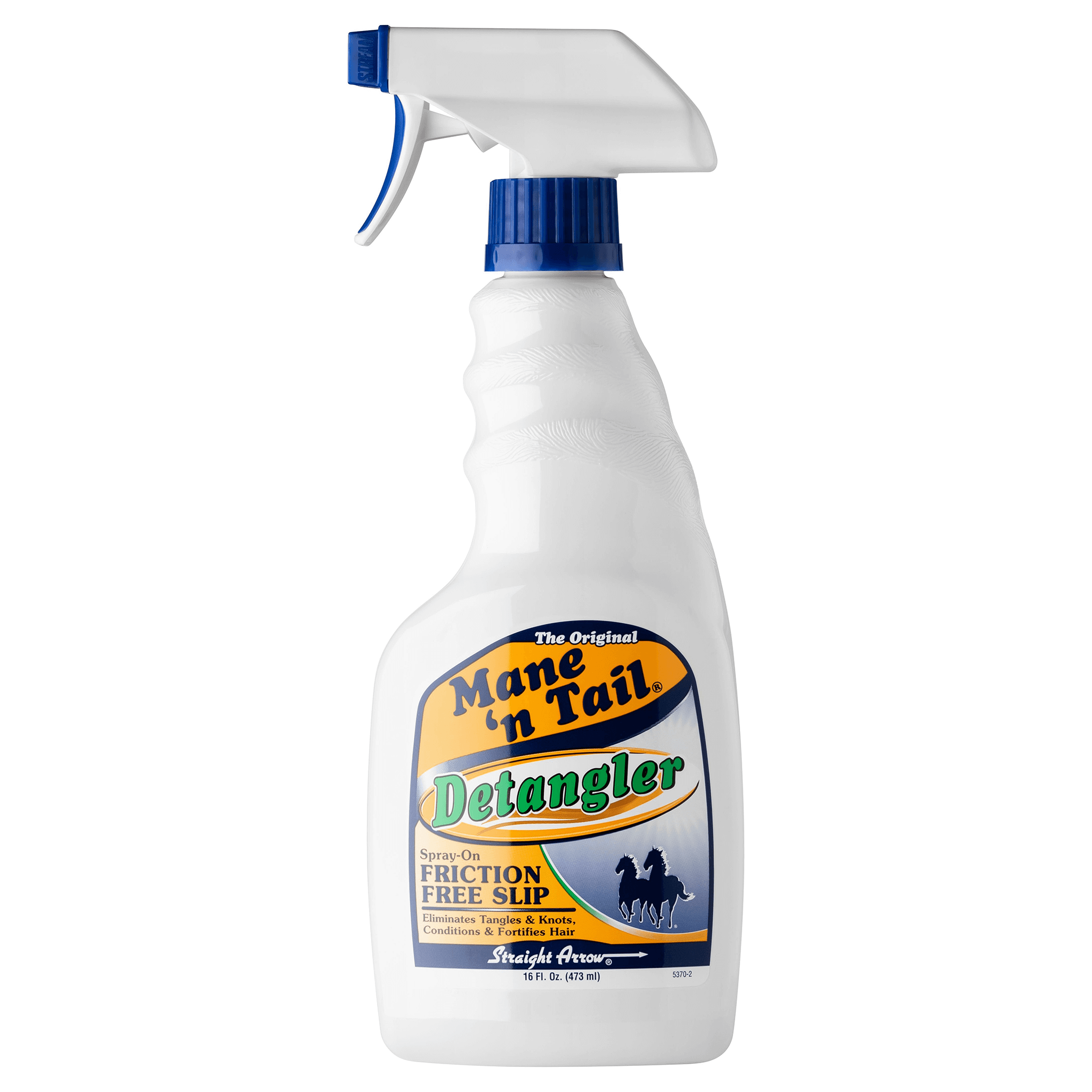 Guarantees
Europe & UK Shipping

We ship anywhere - and everywhere.

Fast Delivery

Quality products are shipped to your frontdoor

Verified Reviews

Our reviews are from actual customers.
FAQs
Are Mane 'n Tail® products safe for human use?

The Original Mane 'n Tail Shampoo, The Original Mane 'n Tail Conditioner and Mane 'n Tail Hoofmaker Hand & Nail Therapy can be used safely on humans as well as animals.




As Straight Arrow has grown over the past 40 years, our product line has expanded to include products specifically developed for both humans and animals, but our consumers continue cross-over use of many of our products! Those products that have instructions for both horses and humans are safe to use for both.

Straight Arrow uses only approved high quality ingredients in our products which we are proud to market under the Mane 'n Tail brand. You will find personal care and animal care product information on our website as well as on individual product labels.
Does Straight Arrow test on animals?

Straight Arrow does not test on animals!
Can I use Mane 'n Tail® Shampoo and Conditioner on my dog or cat?

Yes. The Original Mane 'n Tail Shampoo and The Original Mane 'n Tail Conditioner are safe to use on your dog or cat. Many groomers choose these products for use in their shops.